5.1. SEO Checklist - SEO Notebook.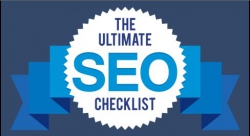 The first thing to do when starting to promote your site on Drupal is to install the SEO Checklist module:
https://www.drupal.org/project/seo_checklist
This is the most useful module of those that do absolutely nothing. This module does not add any new features to the site, does not fix errors, and does not guarantee that your site will reach the top of the search results. But he will give you a checklist, it will have what you need to do to get closer to popular queries.
Visit the Configuration - SEO Checklist page:
/admin/config/search/seo-checklist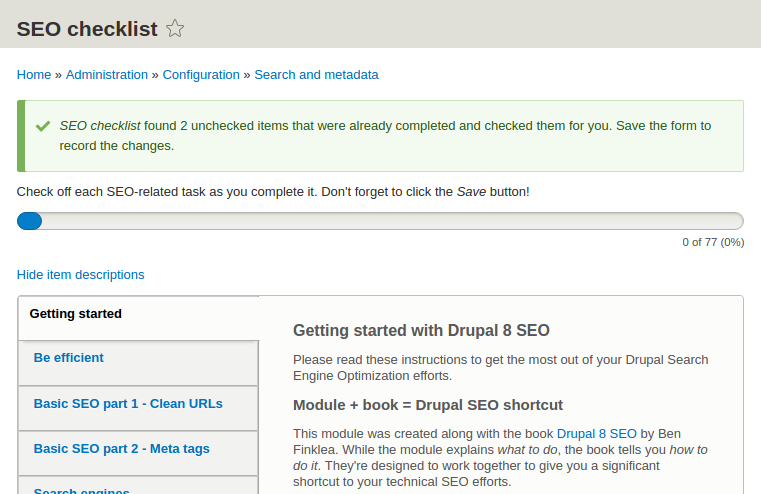 In this article we will go through the points of this checklist, and in the following articles we will configure each of the proposed modules.
Getting started
SEO Checklist module offers recommendations on installing and configuring modules for SEO. He does not recommend any specific actions for the selection of keywords for the semantic core, will not help write articles on the site or structure and link content. This is a notebook where it says which modules are commonly used in Drupal 8 to fill in various elements on the pages of tags, breadcrumbs, URLs, microformats.
You can tick off when you perform certain actions that the module recommends. Once you have 100%, then you have installed and configured the basic modules for SEO in Drupal 8.
Be efficient
This section recommends installing utilities and modules that simplify working with a Drupal site.
Install the Coffee module
https://www.drupal.org/project/seo_checklist
https://www.drupal.org/project/coffee
The Coffee module allows you to quickly go to the necessary pages in the admin panel. It adds hot keys, when clicked, a pop-up window appears to search for the desired page